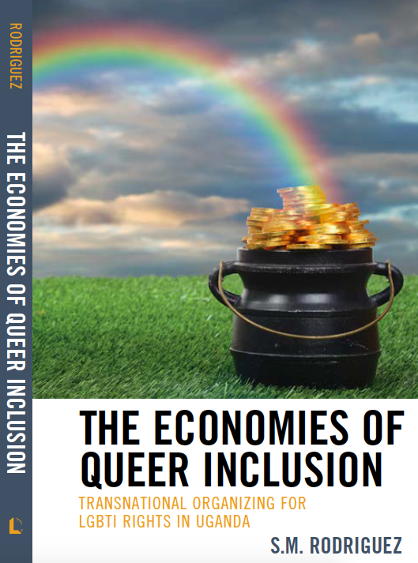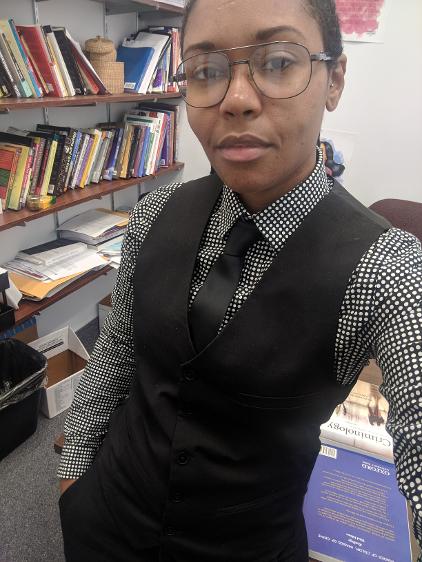 Artist, Activist and Assistant Professor of Criminology in the Department of Sociology at Hofstra University
PhD, 2016, Stony Brook University; MA, 2012, Stony Brook University; BA, 2010, University of Florida
SM Rodriguez is a scholar-activist and Assistant Professor of Criminology and Sociology. Their research interests, as well as organizing efforts, lie in justice movements that are by and for same-gender loving and gender non-conforming people of African descent. Their book, The Economies of Queer Inclusion , examines the dialectics of global and local culture and the effects of transnational financing on grassroots activism in Kampala. Dr. Rodriguez has also done extensive research on the legislative history of sodomy in Uganda, with particular interest in the postcolonial motivations to develop laws which control citizen sexuality.
Dedicated to gender and racial justice off campus, they have assisted in community organizing of workshops and events on policing and gentrification in Central Brooklyn, and provided security for protests by LGBTQ people of color in NYC. Professor Rodriguez lectures throughout the US on African diasporic activist connections; queer empowerment in the US and abroad; the militarization of the police; and mass incarceration in the United States.
Recent & Upcoming Lectures and Events:
2019
November:
21-23: Author-Meets-Critic Session for The Economies of Queer Inclusion, 62nd Annual Meeting of the African Studies Association, Boston, MA
October:
8: "The Economies of Queer Inclusion" Book talk, Penn State University, State College, PA
May:
16-19: "Queer, Afro-Diasporic Ethics in Action" A Roundtable Discussion with Marc Epprecht and SN Nyeck, The Annual Conference of the Canadian Association of African Studies, University of Quebec, Montreal
April:
16: Reflections on Assata, (Lecture), Monroe Lecture Hall 11:10AM-12PM
11: The Politics of Prisons | Politicization in Prison, Moderated Panel, Monroe Lecture Hall 11:10AM-2:10PM
3: Queer in Africa: Challenges and Pathways to Inclusion, Lehigh University, PA
March:
27: Empire and Identity: The Ugandan Anti-Homosexuality Bill of 2009, Monroe Lecture Hall, Hempstead, NY 11:10AM-12PM
February:
27: The Economies of Queer Inclusion: A Book Presentation, Center for Race, Culture and Social Justice Colloquia Series, Roosevelt Hall 203, Hempstead NY 11:15am-12:30pm.
20: LGBTQ+ in Africa, Hosted by the African Student Association and Spectrum, St. John's University, 1:50PM-3:15PM, SJH room 305
2018
November:
22: "Transnational LGBT Rights Activism and the Erasure of the Queer Afro-Diaspora" Institute for Gender and Development Studies. University of West Indies - Cave Hill, Barbados
1: Hidden in Sight: Photographing Incarceration - A community conversation and panel. (Moderated by S.M. Rodriguez), Lowenfeld Conference and Exhibition Hall, Joan and Donald E. Axinn Library, Tenth Floor, South Campus
Free and open to the public from 4pm-6pm.
October:
18: Queerness in Academia: A Panel Exploring LGBTIA+ Employee Experience in University Settings. Hofstra University, 6pm-7pm, Student Center Theater
August:
12: Queer Abolitionist Praxis in the Era of Mass Incarceration. Society for the Study of Social Problems (SSSP), Philadelphia, PA
June:
26: "Reform. Dismantle. Disrupt: A panel discussion on police violence and accountability" Silberman School of Social Work at Hunter College, Manhattan, NY 6-8pm
15-17: "Transformative Justice at the Intersection of Gentrification and Mass Incarceration" RESISTANCE Stream: International Conference on Penal Abolition (ICOPA), London, U.K.