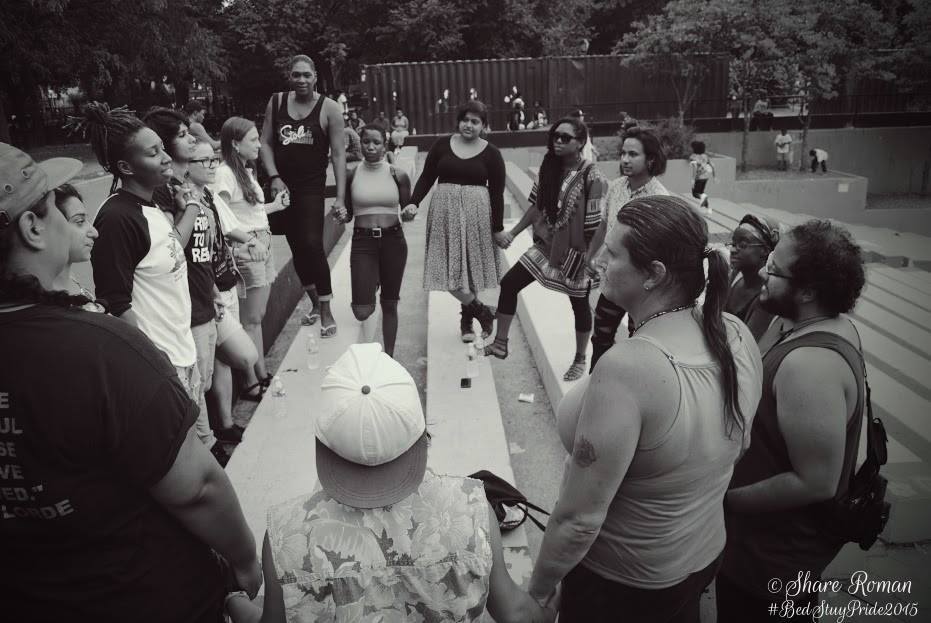 Photograph by Share Roman, Bed-Stuy Pride 2015
In addition to my commitments as researcher and professor, I am also a community organizer with the Safe OUTside the System Collective of the Audre Lorde Project.
The Safe OUTside the System Collective, or SOS, is an anti-violence program led by and for Lesbian, Gay, Bisexual, Two Spirit, Trans, and Gender Non Conforming people of color. We are devoted to challenging hate and police violence by using community based strategies. Our political strategy centers transformative justice, interdependence and collective self-determination. We want a community that is equipped to deal with interpersonal violence (like harassment or assault) without responding with different forms of violence (like encaging or exploiting). For this reason, we share strategies that minimize and ideally eradicate the use of police. This includes violence de-escalation, community security and community accountability. Click here to learn more about Community Accountability and Transformative Justice.
Below are a few S.O.S related engagements
10/2/18: "Abolition 101: A Cypher" Brooklyn, NY
9/9/18: The 8th Annual Bed-Stuy Pride, Brooklyn, NY
6/16/18: "Transformative Justice at the Intersection of Gentrification and Mass Incarceration" RESISTANCE Stream: International Conference on Penal Abolition (ICOPA), London, U.K.
6/2/18: 10th annual Community Freestyle: Alternatives to 911, Brooklyn, NY
2/10/18: Revolutionary Role-Play Workshop: Safety Planning and Bystander Intervention, Black Lives Matter Teen Conference, Schomburg Center for Research in Black Culture, Harlem, NY
10/4/17: Brooklyn Movement Center honors Safe OUTside the System at BMC's 5th Anniversary. Weeksville Heritage Center, Brooklyn, NY
9/10/17: "The Doors to Abolition" - Bed-Stuy Pride interactive political education-art workshop! Herbert Von King Park, Brooklyn, NY
7/27/17: "Queer Resistance to Carceral Solutions" International Conference on Penal Abolition (ICOPA), Dartmouth, Massachusetts